I've been fed up not getting out fishing of late and had hoped to journey down the Clyde today with one of the guys from FFF but have had a bad case of the Lurgie again so thought it was best not to make any plans.
Tonight however my spirits were lifted a by the good weather, seems as though the summer is back for a bit, and I decided I had to get out fishing. The big question was where to go.
I didn't fancy a fishery and thought about Loch Ba as a friend was heading up there for the weekend but by the time I got organised it was a bit of a no-brainer so I plumped for the Endrick. Now that's not supposed to make The Endrick water sound like a second best to Ba, it's just that I knew there wouldn't be much water and therefore not much chance of a Salmon or Sea Trout. So I thought o.k I'll give Drumtain a bash, once through for migratories and then once through for Troots.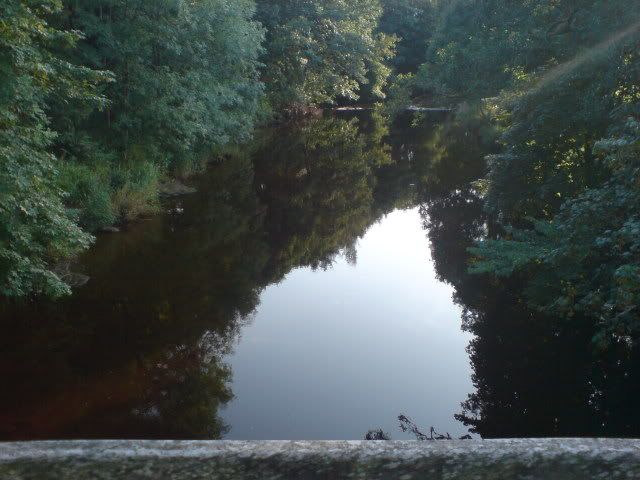 So around 7 p.m. I arrived on a lovely August evening. I tackled up with a cascade Ally's and an Endrick spider on the dropper just as I was shown by an old fellow up there last year. Apparently the spacing from the point to the dropper should be the distance from your nose to an outstretched arm if that makes any sense. ( I know what I mean ).
Well, once through the beat it was, meeting Joe on his way back from a fishless evening. We blethered for a bit and I told him how I'd nearly not renewed my " Big Ticket " this year. I really need to get the boat out on the Loch and maybe even have a bash on the Leven but it's where to fish that's always the question. Maybe I could try the Fruin before the season's out but I wouldn't even know where to start.
Nae luck for the migrtories so I headed back up the beat, tried to have a blether wae the Coo's but they were more interested in chewin' the cud so popped on a wee black dry with a goldhead flashback haresear on the point.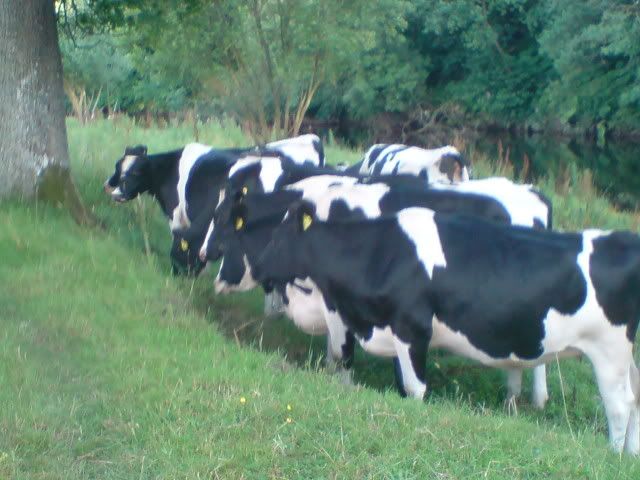 Wee fish were in abundance and one or two had a lunge at my dry but as I worked my way down through the pool. Lady luck was not with me this evening and I blanked.
Ho Hum it's a lovely stretch of the river to fish and I suppose I could've found worse ways to spend a Friday evening. I think it's going to be one of those seasons. How I regret not wetting a line on the Shin when I was up earlier this year.
Oh Aye, forgot to mention I saw 2 of those mental guys with parafoils I think you call them as well as fans on their backs - crazy stuff - and a hot air balloon headed for Fintry.
Happy days.
All rights reserved fishinscotland.co.uk/