Islay Trip Part II
Wednesday 21st July 2010
When I woke on Wednesday morning and had a look out of the window, I was glad the Kinnabus trip had been done yesterday. It was a real pea souper of a day in fact it seemed as though we'd woken in a cloud.
Nothing else for it I guess when the weather is bad on Islay and you're a fair weather fisherman like myself than to go on a distillery tour. Last time we'd been to the Island we had done the Laphroaig ( Lah - Froy – Aig ) distillery tour and without going into the technicalities of peated malt whiskies, it's the most heavily peated and flavoured of them all so we headed for Bowmore and the Distillery of the same name.
We arrived in the main town of the Island around 12 noon so decided on some lunch in the Lochside hotel as we'd done on our lazy day on Monday.
( I forgot to to a blurb about Monday, our first day of the trip but nothing much happened.. We had a lzy day, lunched at the lochside hotel which is quite reasonable with excellent food and the kids played on the shores of Loch Indaal which is overlooked by the hotel while we had a couple of drinks before doing some sightseeing sorry shopping ).
Anyway once it was time for our tour of the distellery we duly arrived, had our tour and tasting and that was that. As far as the Bowmore whisky goes and I'm not a big whisky drinker, it wasn't really to my taste having a deeply smokey flavour in my opinion. Other folk will no doubt swear by the brand but my favourite is probably Laphroaig. A bit too medicinal for some but once the taste has been acquired it's hard to find a superior malt in my view anyway.
Tour over and tasting done, we did some more shopping and then took a run up to loch Gorm for a bit of a Recce.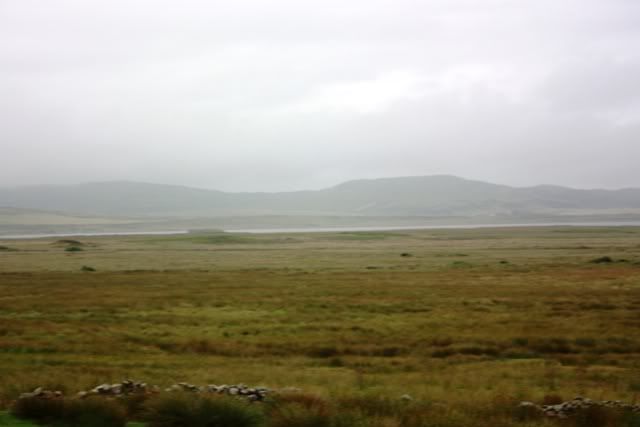 On finding the loch I realised there is a good road which encircles the water entirely so I decided to do the round trip just to check out launching etc,. About half way up the South East side of the loch there's a track which I decided to follow and lo' and behold, there at the bottom of the road were the boats. I jumped oot the car for a better look, there's a bit of a blow going and just as I get to the wee jetty type bit, I see's this guy sitting in his boat tied up to one of the others and I just had to do the how's it going thing.
So, the exchange went thus:
" How's it going "
" Eh upp, not too well actually, ( Must've been from Yorkshire ), where did you come from "
" Bowmore, how what's up "
" Ran out of petrol and I can't row back across the water "
" Where did you get your boat ? "
" At the farm over the other side "
" Well we're going round there, do you want me to give the guy the heads up "
" Would you ? "
" Aye , no probs have a nice day "
With that we bade farewell, ( Oh I think I'd asked him how he got on and he replied 8 to the boat with four kept ) and I drove round to Jim McHarry's farm via a quick look into Saligo bay.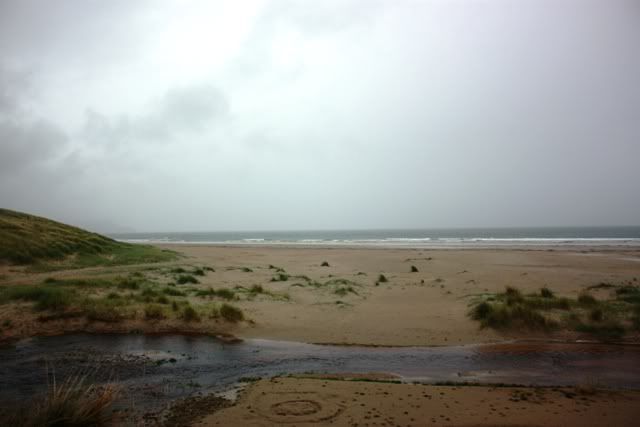 I let Jim know what the score was, I'm sure he muttered something which I didn't quite hear and he said he'd get the lad sorted.
He passed us further down the loch as I stopped for a few photaes and that was that. Day over and into the Maharani in Port Ellen for a curry.
This part of the day I really regret but after the curry, the weather brightened a bit and I decided to take the kids to the pier at Port Ellen for some crab fishing. We'd bought some hand lines at the spar down the road but there was a wee problem with the heating and we didn't get away as early as planned. Anyway, when I did get down to the pier at Ardbeg instead of Pt. Ellen ( P,E,) myself and the girls had a great time using limpet's off the rocks to catch wee coalies. We nearly had some crabs and a Cuckoo QWrasse too ! What I regret however is not having the camera, so nae photaes which is a total bummer !!!
Thursday 22nd July 2010
The beach, the lighthouse and the mystery of loch Uigeadail
Today was a beach day again so we drove round to the beach at Kilnaughton bay on the way up to the Oa. Weather was fantastic again and it's a great wee suntrap. My wife and the kids were in their element with me sneaking off with a handline to the lighthouse.
The same method was used as the previous day with limpets to catch a wee rock cod type thingy and that's about all there is to tell.
Not quite right enough because there is the story of the mystery of Loch Uigeadail.
After dinner, I decided to go in search of the mysterious loch Uigeadail. Provider of the waters of the famous Ardbeg whisky and as such I suppose the veritable Water OF Life or Uisge Beatha itself ?
I got the map out, reckonned the hills on Islay were only small so I should just about do the 6km trek in an hour. Looked like there was a path on the map so I set out around 7.30 with fly rod duly packed. Breakfast was definitely on the cards and this fisherman wasn't coming back empty handed.
To cut a long story short, I headed up the track at the back of the cottage to the bottom of the rise which has Airigh nam Beist on it's top. Branched left and headed up over the rise but I guess where I went wrong is I stayed out of the trees because I ain't no hero( it was dusk man ) . I kept going up looking always for the wee loch which is Loch Larnan but it was nowhere to be seen. Oh well onwards und upwards even more. Still no sign of water.
I saw a path to the left of me heading up to a bhealach which must've led to Cnoc Crun na Maoil ( Hill ) so I headed up. Now I ain't to keen on Island hills as the exposure can be quite freaky and here's me wandering about on top of this thing thinking I'm off my head here. To make it worse my contact lens prescription has just been changed and I cannae see distances properly especially in the fading light.
So, I come to the top of this hill and I see what I now know to be Loch Larnan.for definite.
Right I thinks at the time and undeterred I head further into the hills but I'm thinking do any of these lochs still exist because there are a lot of areas which look like they've been drained to fill other waters. You can't blame the distilleries really as water can be a problem during the summer months.
Anyway like I said, to try and keep this short I wandered about in the hills for about an hour and a half. Could I find Loch Uigeadail, not a sniff except for streams which disappeared into head height bracken or just disappeared up the side of a steep escarpment. Obviously coming from somewhere but I couldn't find the source.
I had to turn for home as it was really starting to get dark now and I could hear strange noises just as I headed past the ruined plague village of Solum.
Apparantly a sailor returned from a voyage bringing back a mysterious plague which wiped out his entire village.
At one point, a bit above Airigh Nam Beist I ended up in the middle of a loch covered with sphagnum moss. I made a step or two before realising I was actually floating, made a runner for it and found myself in an island in the middle. Everywhere I stepped it moved. Man, the contents of my stomach were turning to water. Any way I though the worst that can happen is I'll drown and I reckoned it would be a better fate than meeting the spirit's of Solam so made a run for it.and I got out, just and no more.
It really was getting dark now and I beat a double quick retreat over the hill at Airigh nam Beist ,
Which is a ruined sheiling
and down the rise. Past the cattle as it was really getting dark with all sort's of wildlife such as deer, owls and rabbit's etc,. moving all around me. I never ran at any point but if it wasn't for the fact I was sweating like a stick of old Nitro-glycerine, I'd have been across that last field quicker that Ben Johnstone on speed.
So, I got home. I never found Loch Uigeadail – the water of life and I never caught a troot.
Moral of the story, Island's with wee hills and indistinct landmarks are a nightmare to navigate. Especially when time is limited and the dark of night is fast approaching.
Tips for future reference, take someone with you who knows where they're going.
TO BE CONTINUED…………..