We were out in Glasgow last night and visited Rogano for the 1st time to be pleasantly surprised by the relaxed atmosphere in this veteran of the Glasgow dining establishment.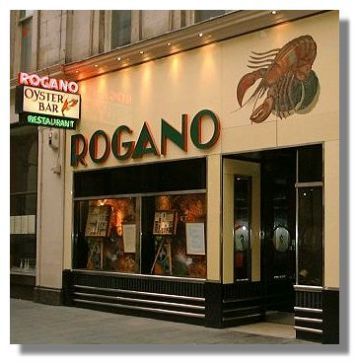 Rogano
opened in 1935, after a restaurant was refitted in the same Art Deco style as the great Cunard liner 'Queen Mary' which was being built on the Clyde at the same time. Thereafter, a Glasgow legend was born.
"
With its unique 1930's ambiance, Rogano is the oldest surviving restaurant in Glasgow. For over seventy five years its chefs have dedicated themselves to the delicate art of cooking and serving the finest fish and seafood in the world from Scottish waters.

For all its inimitable style, and its local clientele, Rogano is a friendly place, with a special welcome for the traveller, being perfectly situated with close proximity to the city's most elegant shops and many of its leading cultural venues.
"
Now, what surprised me about Rogano was that it does exactly what it says on the tin. Despite being the oldest restaurant in Glasgow and having been a regular host to Rod Stewart and many other bon viveurs over the years there is no pomp and ceremony. You are met at the door by a very polite but authoritative Steward. Your reservation for the Cafe Rogano is confirmed by telephone and you are then guided to your table by one of the pleasant and courteous staff members. On sitting at your table, the relaxed atmosphere, friendly service and 1930's art deco style of the restaurant makes it very easy to imagine you have been transported to another time much devolved from the hustle of today's modern eateries.
The menu is clear and concise and despite being described as an " Oyster Bar " there is so much more to Rogano with various seafood, meat and vegetarian options on offer.
What really caught me off guard was the fact that they had Gurnard as the fish of the day which I ordered with some reluctance as I always thought it to be a poor fish. How wrong could I be when I found it to be one of the nicest tasting fish I have ever eaten !
Described as "
Grilled Gurnard with herb polenta cake, sauce vierge and Lobster wontons
", the Gurnard fillets were grilled to perfection and the polenta cake was exactly what it is supposed to be. My wife had the "
Pan fried Loch Duart Salmon with cauliflower puree, Bombay potatoes, crispy kale and cumin oil
" which was equally well presented and reportedly delicious.
I must confess to having had some other diners in stitches when I jokingly asked our waitress for some ketchup to go with my perfectly presented Gurnard fillets and lobster wontons, LOL.
On completion of our meal, we were offered a table in the lively oyster bar upstairs where we sampled some of the finest fresh oysters Scottish waters have to offer at a remarkable price of only £9.00 for six which were served with optional dressings of lemon juice, shallots in a red wine vinaigrette, paprika and Tabasco. Lovely and an experience not to be missed !
How we have missed out on this veteran treasure of the Glasgow dining establishment until now is a complete mystery and we will definitely be back. Hopefully sooner, rather than later.