Well today was the day for a trip to Burnhouse Lochan with some folk from Fly Forums.
Burnhouse is situated just off the A80 about 2 miles from Cumbernauld and is actually quite a pleasant, if a bit barren, wee fishery. I think there was originally a burn which was dammed in order to create the Lochan which is interesting as it means there is a head of small wild brown Trout. Always a favourite of mine no matter where I'm fishing.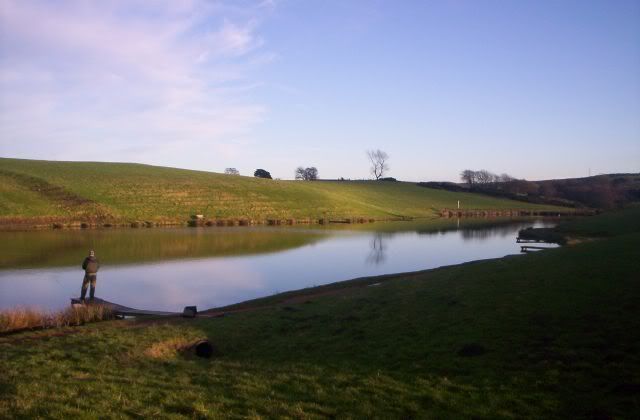 Anyway, back to the fishing. The fishery was open from 8a.m. I believe and I've no doubt the usual diehards were rattling on the door of the lodge at 7.45. There's no chance of that with me and I got there about 11.30 a.m. on a totally dreich Saturday morning. It wasn't raining at this point but it was quite windy and very overcast - rain was a certainty.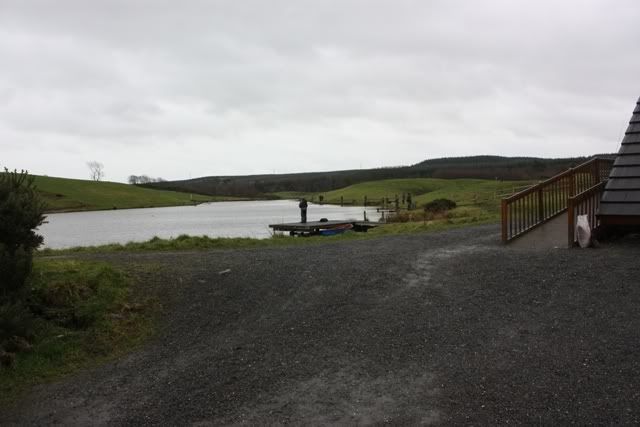 After tackling up it was about 12 noon and I went for a wee walk up to the Lodge where I bumped into 3lb Grayling A.K.A. Jim. It was the first time I'd met Jim even though I've spoken to him several times on the forum so we exchanged pleasantries and I went for a walk along the bank to talk to Neil and Chris A.K.A. Cumbrian Chris ( who had organised the day ) an exiled Cumbrian butcher now resident in sunny Banknock.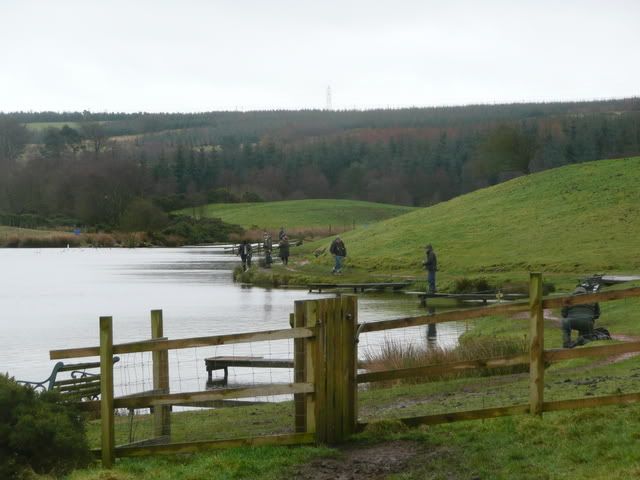 Anyway after a chat I returned to the fishing lodge as the pies were on the go and they were washed down with some of Shanksi's 8% proof cask beer. It was strong stuff there is no doubt about that. It kind of reminded me of a Fowler's wee heavy.
Well after lunch, I headed for the East shore of the fishery and gave it a bash but it was a bit cold and wet and windy. O.k. I could've worn waders but I didn't opting for Denim stylee Boyakasha for the day. Innit'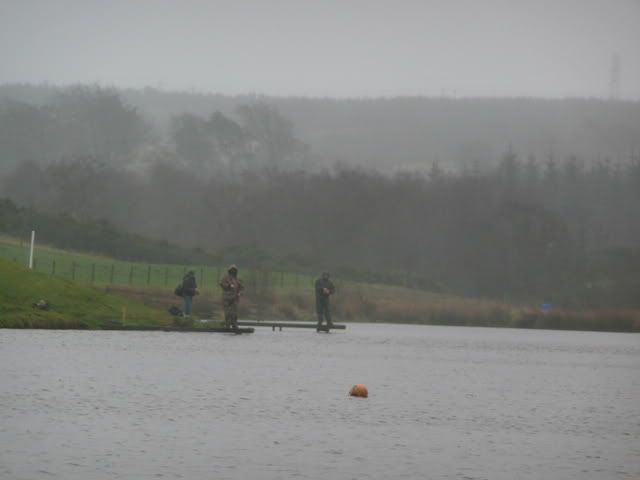 I had a few casts and nothing was doing so I headed for the West bank and a couple of the guys who were doing pretty well anyway allowed me to slot in between their pegs. There was no peg hogging at all which was good. After a change to a Black Dart, I had a wee Broonie around three quarters of a pound and it's just as well 3lber was next to me as he reminded me it was next week before I could chap it on the head. Crying shame too, pan sized Broonies are good eating.
I persevered for about an hour with the floating line and decided to go with a fast glass intermediate and get the lures really working so this I did and I was into a wee stockie within a couple of minutes. I landed it, chapped it on the head and pretty soon after was into what seemed a better fish but it threw the hook quite a distance into the Loch. After that I kind of got fed up and headed back to the fishing lodge where I had a piece of Auldjo's chocolate cognac cake and it was excellent and so well laced there must've been a full bottle in it.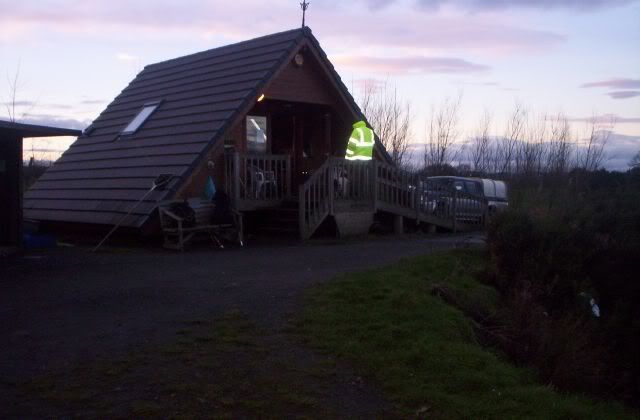 Things were fast coming to an end and after a blether with Shanksi, McAllister, BTF, Hot to Trot, most of the other attendees and Whitegoatie, a lad who had driven all the way from Stamford but had been lucky enough to bag up, it was time to call it quits on a pleasant but dreich Scottish day fishing with some great folk.
All rights reserved fishinscotland.co.uk/