This is a first of gear revues I'll be doing on equipment I've chosen for fishing and walking. On many occasions the equipment will not be the most expensive gear available but will be the best I can find within my budget.
I choose my equipment for functionality, looks and durability and reckon my choices are pretty good. Then again I would do.
The Highlander Forces 44 Rucksack which I purchased from " The Rod and Gun Shop " in Fort William cost around £35 and I selected the DPM / Camouflage model as I intend to use it for fishing and walking in remote places and didn't want some thing that would be more suited to a scene from K2. I've had loads of fancy poser rucksacks in the past but as I get a bit older am getting a bit more conservation. I don't mind being seen but I don't specifically have to be seen.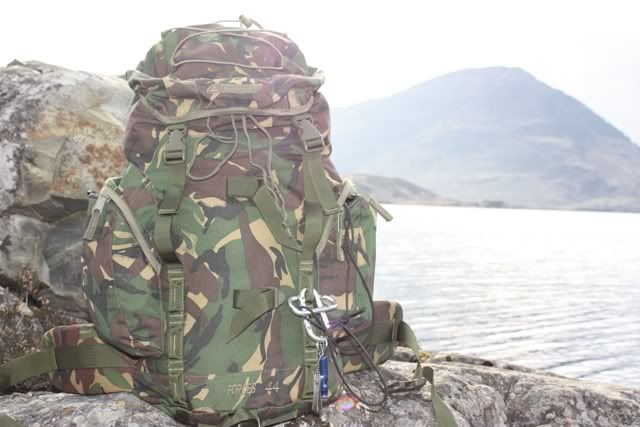 This is the manufacturer's specification on the rucksack and they're designed for comfort, durability, reliability, functionality and versatility.
FORCES 44 Rucksack
Available Colours: Camo (NRT44C)or Olive (NRT44)
Duraflex branded buckles and clips.
10 gauge self repair zips.
Shock cord top system.
XTP900 fabric for greater durability
Draw cord snow closure.
Ice axe loop.
Airmesh funnel back system.
Lid compartment.
2x2 litre side pockets.
Chest strap.
Waterproof transit case.
Utility chain.
Accessory D-rings.
Padded waist strap.
44 litre capacity.
For £35 this specification really did tick all of the boxes for me and some. Some folk may think a 44 litre rucksack is too big for day trips but I'm a firm believer in the fact that you can always carry a larger sack half full but you can't carry more than the capacity in a smaller sack. An argument against this may be that you'll be tempted to carry more than you need. To folk who would say this I would tend to agree but when wild walking or fishing in Scotland I'd always want to use a sack which could carry fishing gear together with a full set of waterproofs, thermals and enough food for a night out in the open.
My first use of the Rucksack was in the North West Highlands where I walked into a Loch around the area of Corrour. The walk in was approximately 1 hr and the walk out approximately 1hr 20 mins the distance is approximately 4km and according to the map there is about 300 ft of descent on the walk in but it did look like it was considerably more.
If I was to rate this bit of kit I reckon it would easily meet modern military standards with the only proviso that the side pockets are not detachable. From me it gets at least 9/10 for doing what it's supposed to do.
The ventilated and sculptured back together with all of the other features make it a " Ronseal " in other words it does exactly what it says on the tin and has features you would expect from a sack at twice the price.
All rights reserved fishinscotland.co.uk/