Well it was the kids Easter break and we had decided to go to Fort William which seems to be where we end up every Easter these days.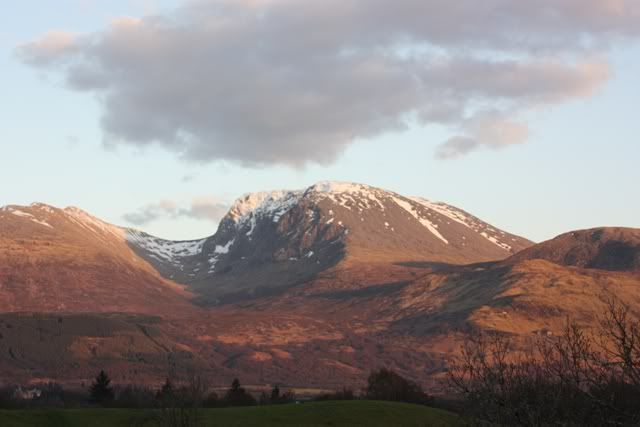 Ben Nevis - The Evil Mountain in Gaelic I believe.

I had hoped to get away early but after I had attended to work matters it was the usual late afternoon departure. The weather was good all the way up the road and we were hoping against the odds for a whole weekend of fair weather. Arriving at the site, the accommodation was in it's usual good order and the view over the Loch was excellent.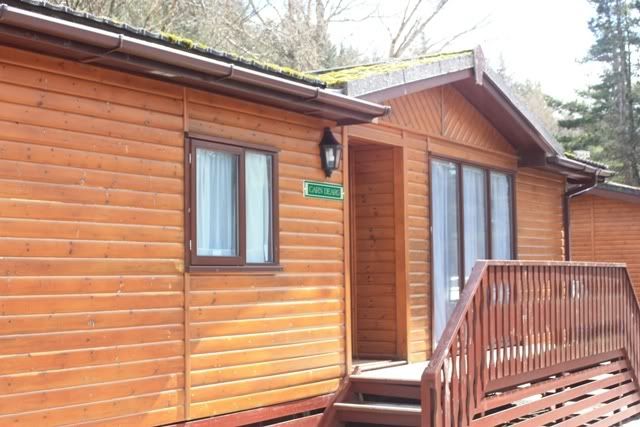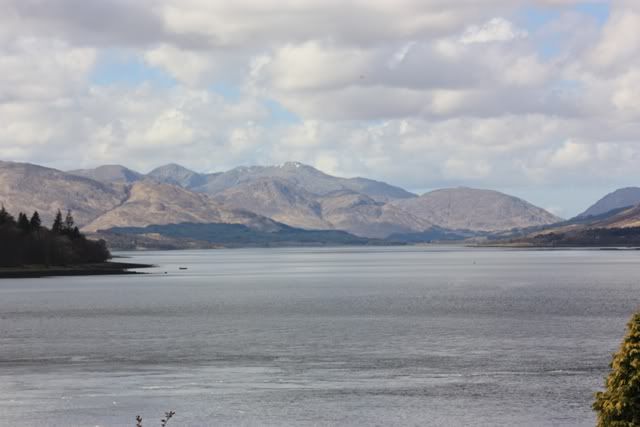 To be able to wake to that every morning would be a dream of mine but for the meantime, I'll just have to settle for a view over the Campsies.
Saturday was a day for the shops and we headed into town on what turned out to be another lovely day after going for a walk along the banks of the Nevis at the visitor centre. On the way in we noticed the Nevis Bank Hotel was closed and boarded up which came as quite a shock but on heading into town it turned out there was another hotel closed at the West end with a further six shops up for lease and a vacant lot where McTavishes kitchen used to stand.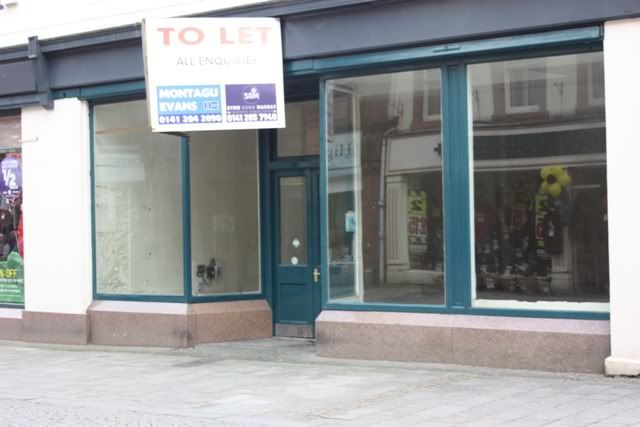 Depressing signs of the times and we found the shops to be really quiet too. Folk were out and about but no-one seemed to be spending. I was really surprised to see a town like Fort William in such a poor looking state. Hopefully with the pound being so weak they should get a boost in the Summer.

I made a lovely seafood Risotto for tea which was washed down with a very enjoyable Chardonnay and took the kids for a walk to the outdoor play area which they really enjoyed.

Sunday was Easter Sunday and was an even better day than the last two. The kids painted and rolled their eggs and we decided to watch some boats go through the locks at Bannavie.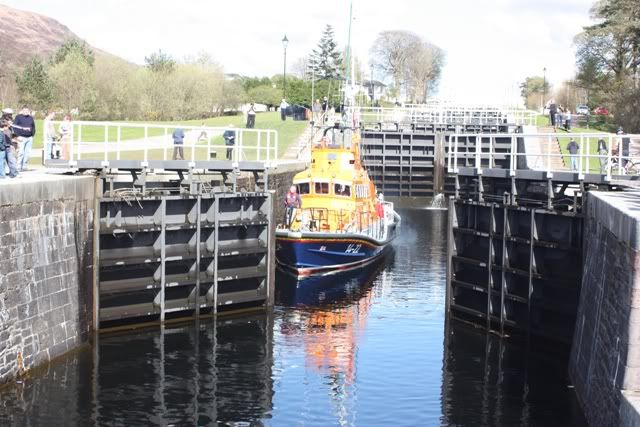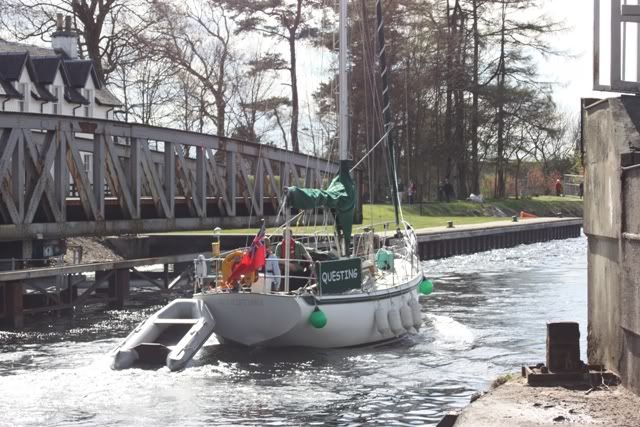 After this we went for a walk to one of our favourite places. I've been going to this place for about twenty years now and never get bored with it.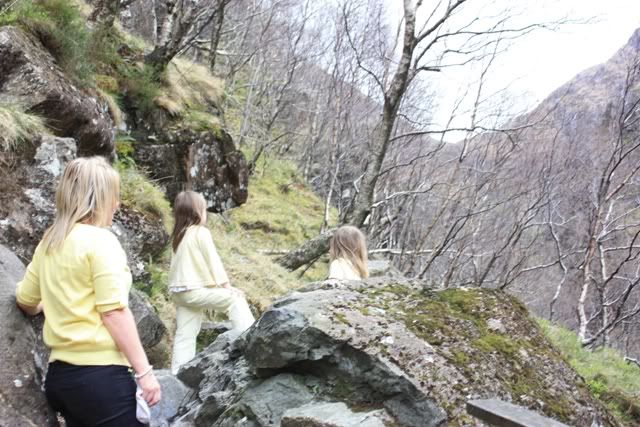 The Team
I don't know whether it's just that we pick good days to visit but the sun always seems to shine in the Glen. I had the perfunctory crossing of the wire bridge to do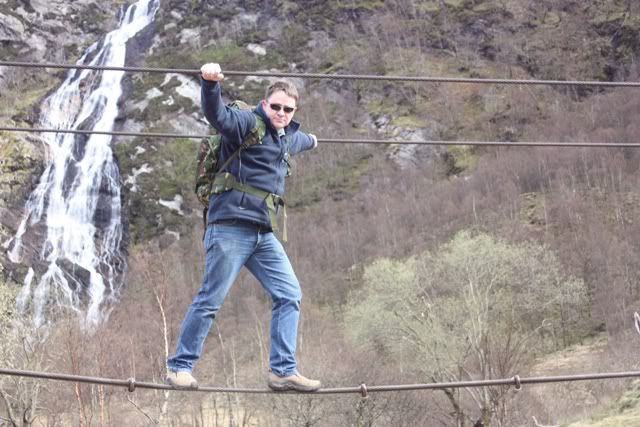 and the kids had their first wobble at the start. Maybe next year for the eldest. Dinner was at the Loch Iall restaurant which for an Easter Sunday was remarkably quiet.
Going on a mission ?

Monday arrived and it was my day for going fishing. I had packed my forces 44 rucksack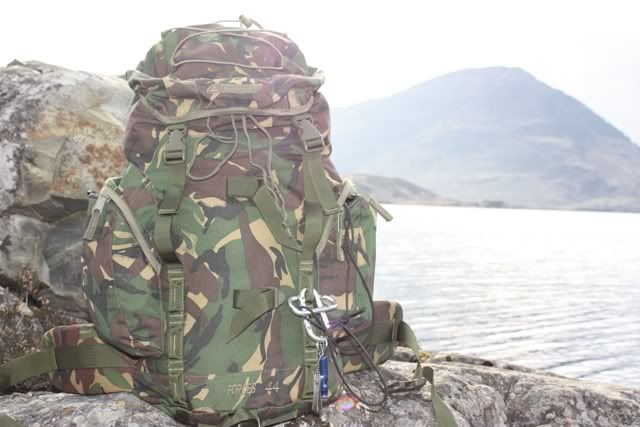 ( review to come ) the previous evening and made my plans for a Loch I've fished before but never fished from the West end so packed the lot including chesties and wore wading boots for the walk in. I found out later that this was to be a big mistake. I won't bore anyone with details of the way in or the journey to my chosen spot other than to say that when I arrived and started the walk in, I realised it was going to take a lot longer than I had expected.

First point of call for a photo stop was Corrour Summit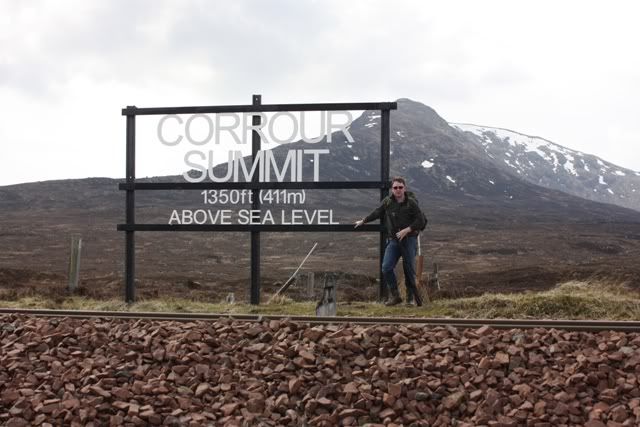 which never having been here before, I didn't realise it was actually higher than Rannoch. I've always meant to walk from here to Glen Nevis and hope to maybe even get round to this later in the year.

The going was good for the walk in and consisted mainly of made up tracks but there was a hell of a descent




to where I was going and I couldn't help thinking that it was going to take longer to get back than it did to get there.

When I got to the Loch side and the end of the track, I was amazed to find a guy sunbathing who was later joined by his wife and son.


Finally we come to the fishing. I had brought a fly rod with me but decided to leave it at the billet because this is a big sheet of water and I knew the water would be cold and the fish would be lying deep due to the altitude so, spinning and worming were to be the order of the day.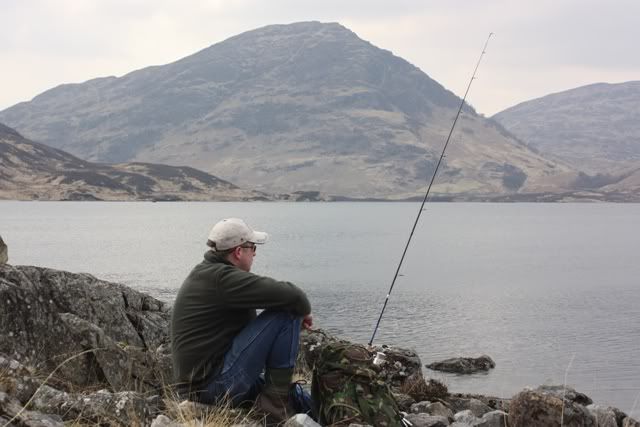 I thought I'd have a crack with the Rapala's and lures first as I reckoned it would give me something to do until lunchtime. The waders were a waste of time as the water level was high and the banks drop off quickly to deep water. I know this is a Hydro Loch but the fluctuations in level are immense and you never know what you're going to get next. This was the highest I'd seen it but won't even bother with waders next time I'm up. I had a blast for about an hour before losing a ten quid Rapala with no hits so knocked it on the head for a bit at that point and had some lunch.

After le déjeuner I gave the worming a go for a bit with no luck whether floating or ledgered and decided to head for what looked like shallower water in order to try for fish which may have moved into the margins in search of early season food. I walked towards the top end of the loch and found one of the natural inlets which again seemed to be very deep right from the bank. I can only assume that because of the level fluctuations the burn has been able to carve a very deep channel. I made a personal note to come back here in the summer months if I could find out what the water level will be like before hand.

I was trying a storm minnow pattern. If this wasn't working nothing would. The Loch is enormous when it is high and I guess finding the fish is probably the hardest task as they are definitely in there.

Around six O'clock and after working my way back down to my starting point, I stuck on a couple of worms and broke for dinner. Minestrone soup, pasta in a tomato sauce and a can of tennents to wash it all down – most excellent, followed with a double decker for dessert.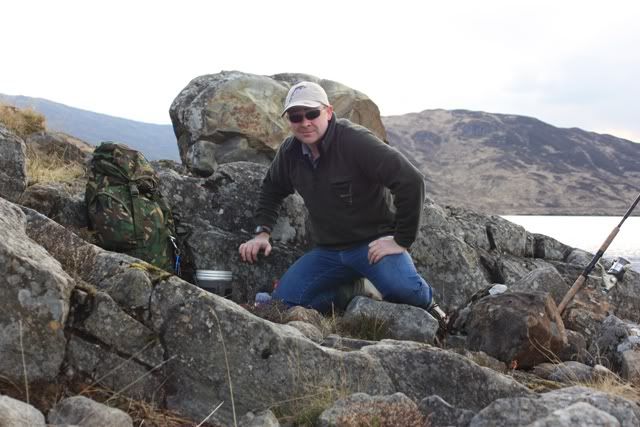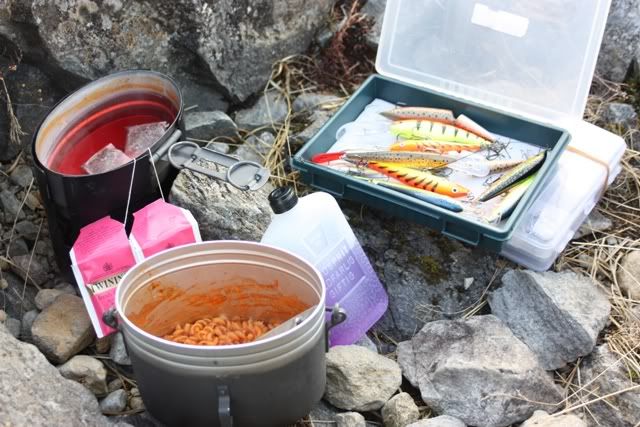 I tried the wee bay to the East of me with the Storm Minnow after dinner but no luck here either. I'm sure I saw a fish move though but it didn't move onto my lure. There was a bit of a South East wind so that's my excuse. One last cast around 7.25p.m. and it was time to disembark and disengage. I packed the gear, shouldered the rucksack and headed for home on the uphill part of my journey. Walk in time is about an hour and walk out time is about an hour and twenty minutes.

I learned a valuable lesson on the way out even if you think you've seen it all, always keep your camera to hand. After topping a wee rise I came across a group of the Lairds finest Red Deer but by the time I got the camera out they were indistinguishable. Oh to have been carrying a .303.


I managed a pint of Cider before heading on my return journey and at £3.00 it was sore on the pocket but a welcome libation none the less.

A great day out fishless or otherwise and as Arnie said " I'll be back " .
All rights reserved fishinscotland.co.uk/