I came across this piece of kit in my local Asda in Cumbernauld while looking for a lunch box that would do me for work and when fishing too.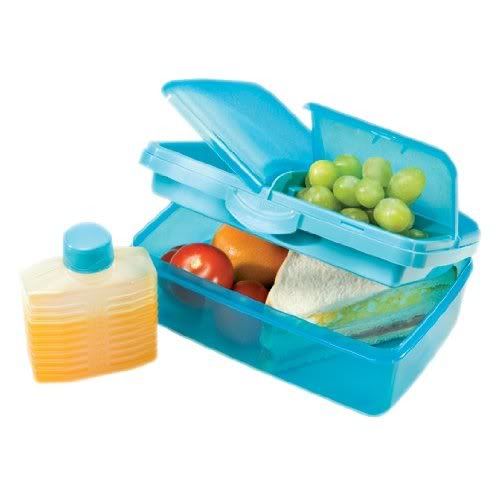 Basically it's a compartmented plastic lunch box and pretty neat if you like to take a variety of things for lunch but prefer to keep them in different compartments in order that they don't get squashed and tainted by other foods.
The name for the " slimline quaddie ", comes, I take it from the fact that it has four separate compartments contained in a single box with an overall capacity of 1.5 litres. A novel feature of the unit is that it comes with an integrated 50 oz screw topped bottle which can be used on it's own or integrally with the quaddie, as it fits in one of the quaddie compartments.
What I liked most about the slimline quaddie is the fact that it's large enough to carry a more than adequate lunch for one or even two at a push but unlike it's big brother the " quaddie " ( with a capacity of 2.75 ltrs and a 93 oz drinks bottle ) it will do the job without impacting heavily on limited carrying space of a rucksack or fishing bag. I guess if I was taking the car or a boat and had the family with me the 2.75 ltr quaddie would have to be the choice for the day.
Sistema
is a New Zealand company with a large range of innovative food storage solutions in addition to the quaddies which are now available in this country and quite a few of their products such as the " Klip It's " ,
one of which was sent to me by Helen from Sistema would double nicely as handy little bait, fly or tackle box too !
But don't tell your good lady that as you slip one into the shopping trolley !
Further details from those innovative Kiwi's at Sistema are available here