A wee thread for the flies I'm tying and fishing. I try to choose flies these days that will be useful in a variety of conditions and waters, whether river or loch. If anyone wants any more info on any of the flies or if you would like me to tie some flies for you then please let me know.
Thought I'd start with the Adams upwing dry fly, a few of which I tied last night.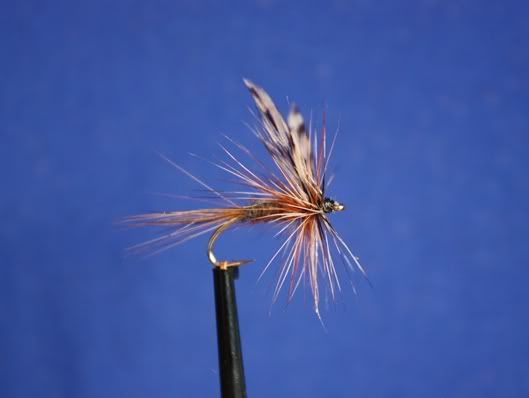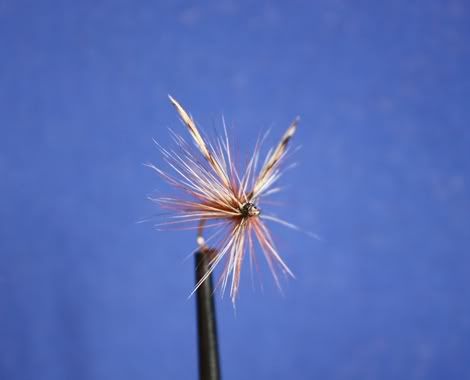 Hook Size 10 - 20 ( I used a Fulling Mill Living Larva )
Thread Black No. 8 Uni Thread
Tail Brown and Grizzle cock hackle
Body Grey rabbit fur
Wings Grizzle cock hackle points
Hackles 1 each Grizzle cock and Brown Natural cock hackles 3 - 4 turns
Although now almost eighty years old this is still a very modern looking fly that catches fish around the world in a wide range of water types. Although called the Adams, this fly was actually created by Leonard Halladay for an attorney from Lorain, Ohio called Charles F.Adams who commissioned Halliday to tie the fly in order to fish the Boardman river Michigan.
The historically accepted story regargding the Adams says that on a summer's day in 1922 at the impoundment of Swainston Creek known as the Mayfield Pond, Mr. Halladay said: "The first Adams I made I handed to Mr. Adams who was fishing in a small pond in front of my house, to try on the Boardman that evening. When he came back next morning, he wanted to know what I called it. He said it was a 'knock-out' and I said we would call it the Adams, since he had made the first good catch on it."
The rest as they say is history as it is generally accepted in fly-fishing circles that if most fishermen were to choose just one dry fly it would be " The Adams " or one of it's variations.