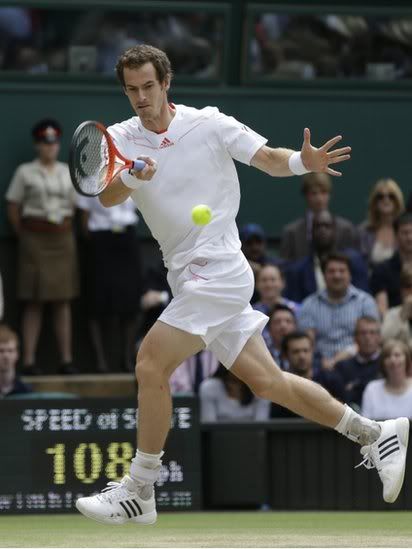 Andy Murray, men's singles final Wimbledon 2012
Well, it's the final of the Wimbledon 2012 mens singles today with Andy Murray from Dunblane in Scotland, a previous semi - finalist and Roger Federer from Switzerland, former 6 times winner ready to slog it out on the centre court of Wimbledon today on the 8th July 2012.
I don't usually bother with tennis and hardly ever bet but took a wee punt as it's a pretty momentous occasion with Andy murray being the first British men's singles finalist in 74 years since Bunny Austin appeared in 1938.
I have the following bets
£5 at 5-2 for a 3-1 Federer win
... and
£5 at 6-1 for a murray 3-2 win.
UPDATE 1-0 Murray
Either way with one set played and Murray winning 1-0 at the moment I reckon I might be onto a payout as I can't see Murray winning 3-0. I just hope Federer doesn't take a 3-2 win and I'll be quids in !
Federer's making mistakes, can Murray make history ?
Update and Roger Federer wins Wimbledon 2012 3 sets to one netting me £7.50 at the bookies.
Too bad for Murray but I'm sure his time is coming soon.
Final odds on Federer were 1/100 !!!