Between one thing and another, I didn't get much fishing done in 2012. In fact between bad weather, work and family commitments I only managed out a few times. Here's a roundup of what I got done.
Friday 25th May 2012
A walk to the loughside
Now, I can't remember how this wee trip came about but I can never remember the walk in being as long. I think I'd been meaning to head up here for a while and had been waiting for a weather window, so with the weather being not too bad, in fact pretty fair, I left home around 11pm, travelled the hour or so up the road and got parked up for around 1p.m after a wee stop at the shops en-route.
By the time I got sorted it must've been around 1-30pm but from what I remembered of my mountaineering days thw alk in was fairly short. Maybe around an hour or so at most because we used to head up here on wet days for a bit of exercise more than anything.
I couldn't have been much more wrong. After an hour or so up a fairly steep forestry track, the rout left the track and headed uop through some plantation ground. I don' remember the trees from years ago and I didn't remember the going being so rough and steep. Turns out I had taken a wrong turning somewhere and could've avoided the trees as I found out on the way back down but it would still have been pretty heavy going.
I cleared the trees and headed for the bluffs but again this was a hard slog and it must've been at least an hour to the rocks. With the loch being approx 3/4 hr beyond that. which made for 2 & 3/4hrs really heavy going. A bit different to the 1 hr or so I was expecting.
So, I arrived at the loch, which I had never visited before and sits in a sheltered hollow around 4 pm and by the time I had some pieces and a drink it must've been around 4.30. Considering it was going to take me at least 2 hours to get back down I only had a couple of hours fishing time at most.
I won't burble on about the fishing because it was really dour. I fished all round the loch with the fly and had a couple of chucks with the maggot and bubble too. No luck, not a touch and I didn't even see a fish. From what I remember though, I even had a blast with the spinners for a bit.
Now here's the interesting bit though. Just as it was time to go home. The evening rise came on and I took to some high ground to see what the action was like and you know what, there was some pretty awesome bow wave action going on the likes of which I have never seen before in Scotland.
I packed up and headed home but mad a mental note that I must definately return to this loch at some point in 2013 when I had more time to give it my full attention.
Friday 1st June 2012
Torridon and Applecross
I spent last weekend in Torridon and Applecross where I met Fred and Andy from the wild fishing forum who seemed a couple of totally decent guys.
Arrived late - ish on Friday night and had a couple of pints with them in the Torridon Hotel.
I couldn't settle when I returned to the campsite so headed down to Applecross early morning where I fished a couple of lochs but no luck in the blistering heat at 7 a.m. so after a wee siesta headed home via the " Road to the Isles ".
Bit of a bummer I couldn't spend more time with the forum chaps but it really was too hot for me for fishing.
Some Torridon Photo's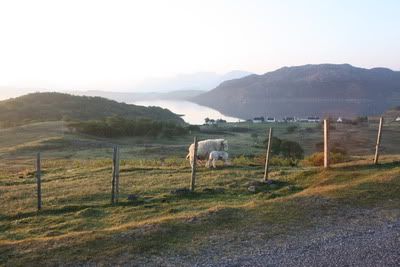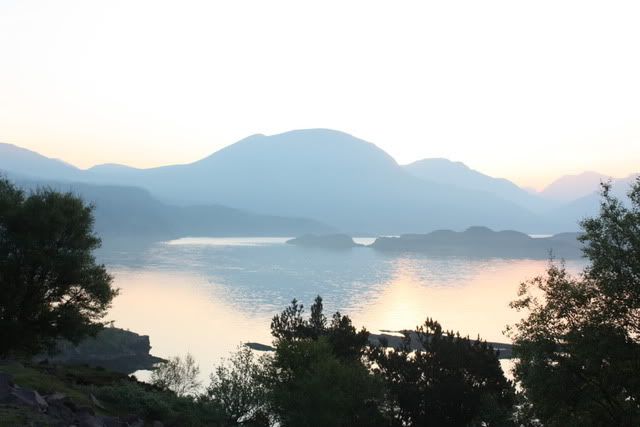 It really is a paradise up there when the weather god's are smiling !
Wednesday 13th June 2012
A local loch
Not much to say about this, nice night and a nice wee wild brown trout on one of my BWO emergers
Apologies for the poor picture quality, I dunno what was going on with my phone. I really must get a decent wee pocket camera for when I don't have the DSLR.
Wednesday 27th June 2012
Loch Coulter
I took a run up to loch Coulter which is the club water of Larbert and Stenhousemuir Angling Club in the Campsie's last night as with the mild weather it seemed like a nice night to get my first cast of the season in at the wee loch.
Normally I would go via Bannockburn as it's a shorter better route but decided to take the Kelt road from Banknock and see if anything was happening at Drumbowie loch, the Bonnybridge angling club water but was surprised to see that there didn't appear to be any one out.
Anyway, I headed up to the Coulter and had a chat with someone there with a wee jack Russel called Jock who introduced himself as one of the river Carron water Bailiff's. I'd heard about fish losses last year due to a Blue Green algae bloom but according to what I was told the losses were quite substantial.
So, on the fishing front, things didn't look very promising promising at all as in addition to last years losses, there was a tremendous hatch of Caenis " the anglers curse " on the go......... :-( .
Ever the optimist however, I tackled up and hit the water in boat no.3
at about 8 p.m covering the North shore down from the boathouse with a floating line an various flies for about 500 meters. This took me well into dusk and changing tactics, I opted for a slow glass intermediate on the way back up the loch using various lures, attractors and nymphs, eventually getting back to the jetty and into the car for about 10.30 p.m.
It was a very disappointing evening. I never got a touch or saw a fish rise either and looking in the catch reports, the month of June just doesn't seem to have been producing the goods at all !
Friday 27th July 2012
River Spey
Between the Monadliath Mountains in the west and the Cairngorm Mountains in the east lies the silver ribbon of the river Spey. The second longest river in Scotland and equally important for Salmon fishing as it is for whisky production.
Rising at Loch Spey in the Corrieyairack forest within the Monadliath range, the Spey wends it's way for 106 miles through Newtonmore, Loch Insh and Aviemore at the foot of the Cairngorms before finding it's way to the Moray Firth where the salmon and sea trout for which the Spey is famous find their way into the system.
Salmon fishing on the Spey over the last few years has been the best since 1995 and it is, with the exception of the river Tweed, now the most prolific salmon river in Scotland. It is also rated as one of the top three sea trout rivers in Scotland too with some very affordable fishing along it's length such as that supplied by the Strathspey angling improvement association ( SAIA ) who's website boasts this picture of a fine rod caught Spey salmon.
Something else which should not be forgotten about Strathspey together with fine Speyside malts and the fantstic walking, climbing, skiing is the fantastic opportunities to view the local flora and fauna in the Cairngorms National Park where the Ospreys of Loch Garten can be found which are themselves worth visiting the area for alone.
Anyway, onto the fishing and the brown trout.
Now I can't claim that this was an out and out fishing holiday but more a family break where we took our accomodation in the Aviemore area. So, I won't wax lyrical about how I spent hours on the river bank targeting silver tourists but will instead cut right to the chase.
We had left our home in Cumbernauld around 11 a.m. on what was pretty good weather all things considered and arrived at the caravan site we'd booked around 3 p.m. after a bit of dilly dallying on the way. We got organised and I checked out the fishing situation. Having got the required paerwork in order, I headed back to the caravan to find I had about an hour or so available before dinner would be ready.
So, I decided to go for a wee walk down to the river and came across a chap using some plasticene and a worm ( naughty ) at a secluded wee spot. I had a bit of a chat with the guy and while doing so I noticed a reasonable sized fish rise just at the crease line where a wee eddy joined with some slacker water. I pointed this out to the guy and as we chatted the fish rose again in exactly the same place.
Well, what could I do ? I mentioned to the guy that I reckonned the fishy might just be coaxed into taking a fly. To which he said well why don't you go and get your rod and have a cast or two. Now that was just too good an offer to refuse and within 15 mins, I was back at the riverbank with my new Sonic 4/5 wt fly rod, complete with new Pflueger reel and Pitsford Pirate floating line. I had quickly tied one of my wee March Brown emergers on the point of the cast and with some difficulty tried to get a place to cast from.
The banks of the Spey at this point were quite heavy with shrubs and trees so getting a cast in wasn't the easiest. Eventually however, I got the fly in just the right spot and up came Mr. Trout, the line was too slack though and he took the fly but spat it out as quickly as he had done so. The air turned blue but the guy with the naughty gear couldn't realise how close I had come after just a few casts.
I was gutted. Being pretty sure that my only chance was gone and we wouldn't see head nor tail of the fish again. But, what do you do, I carried on for about another twenty minutes with no luck and as so often happens, my last cast was point perfect, up came the trout, I lifted the rod and the line went tight ! At first I wasn't sure what I had on as he dug deep and fought hard. Then he launched himself into the air with me and my companion thinking it might well be a sea trout.
Anyway, I didn't mess about but didn't play him too hard and after another couple of leaps into the air, my new friend on the bank produced his net and this nice wee specimen of around a pound and a half - a pound and 3/4 I would say, met his maker.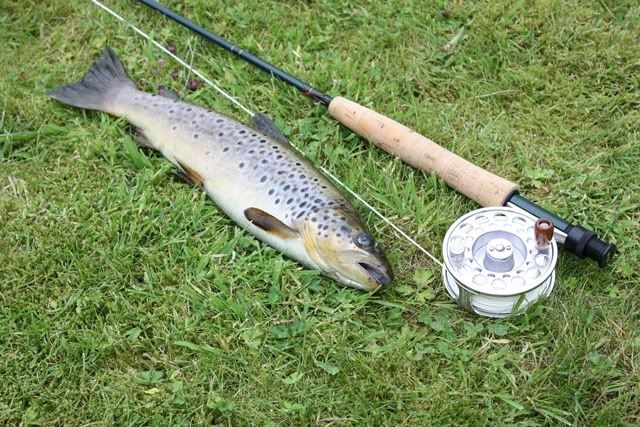 Now, you might not think too well of me for chapping this fine wee specimen, but unless I'm trophy hunting, pan sized fish are fair game in my books and I wasn't about to pass up the chance of some good eating. I thanked my new friend for letting me into his spot and made my apologies for not offering him the fish to which he said it was absolutely no problem and we bade our farewells.
I must say, I did feel a wee bit of pride heading back to the caravan with this fine wee fellow hanging off my my middle finger and the kid's I think were a wee bit proud of their dad for not coming home empty handed for a change
It was the next evening before I was able to serve the wee fellow up for dinner but I must admit he did taste very nice served with some new potatoes, a fresh green salad and a nice wee lemon/lime herb dressing I put together.
I did manage a cast or two the following evening but all of the fish were close to the far bak and the high banking behind prevented any kind of reasonable distance being met.
Well that was the fishing for the holiday and the remaining time was spent doing family stuff like visiting the Landmark centre, Loch Garten and The Cairngorm Ski Center. All in all, the weather wasn't too bad considering what we've had to put up with this year.
As a footnote, I'm going to make a point here concerning summer holiday accomodation in Scotland. The bottom line is that it is extortionate for what you get. 3 nights in a caravan in Aviemore cost us just over £300 pounds. We could've had ten nights in a caravan in France but circumstances prevented us from doing the continental thing. I know the season in Scotland is short, but I think there has to be a re-think regarding accomodation costs. Everyone has to make a living and everyone has to make a profit but there are times when you feel someone might just be ripping your knitting for want of a better expression.
September Weekend
24-27th September 2012
An Teallach
Well, through some contacts I have, we had been lucky enough to get a wee cottage organised near to An Teallach. In a fantastic location right on the shore of one of the sea loch's this is a great place for a quiet weekend if that's what your after.
Travel time from Glasgow is about 4 hrs and it's a bit of a grind but worth it for the stunning sea and mountain scenery in a truly remote location.
Again, this was more of a family weekend than an out and out fishing trip but I had packed the fly rod just in case.
We arrived very late on the Friday night so didn't do anything apart from get ourselves organised at the lovely and modern two bedroomed cottage situated 100m from the sea loch where you can see a variety of wildlife like seals, dolphins and birdlife.
There's not much to tell fishing wise so I'll cut straight to the chase. On Monday, the weather was pretty fair so around 5pm I headed into the hills to try a couple of hill loch's. I had a map but the route I'd chosen was pretty devoid of landmarks so there was a bit of tramping around lookinfg for the loch in question. ( Ican't remember the name but I'll include it later if I remember to look at the map ). There are two or three lochs in this area above Ardessie and local knowledge had told me to seek out the one closest to An Teallach as the others were reported to be bandy lochs.
Anyway, as is the norm in the Scottish Hills, it took a bit longer to locate the loch than I'd expected but I got there eventually. I say loch but it was no more than a puddle in a hollow in the hills. I reckon I must've made about 1500 meteres of ascent to get to this place and I was expecting great things but they were not to happen. First couple of casts and I was into a fish which would prove to be typical of the location. Not a monster but a wee bit bigger than what you will find in some hill lochs. A nice wee trout but I put him back and fished on hoping for something a bit bigger. Something bigger never materialised and I headed home in the gloaming with nothing for the pot as they were all pretty small.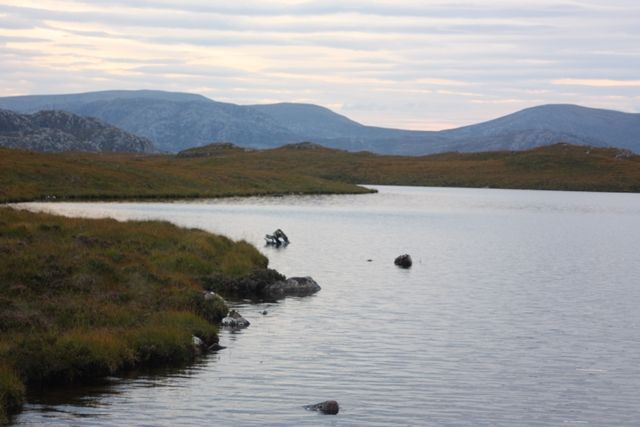 I've never been up in the hills around An Teallach before but it's quite an eerie place just as the sun is going down and I never wasted any time on the downward trek. Dunno if I would make the effort to fish any of these loch's again ?
As for the rest of the holiday it was nice and relaxing. The kids loved the freedom , interesting stuff like finding fly agaric mushrooms , collecting mussells and winkles on the beach and we even had a wee seafood fiesta when we got home.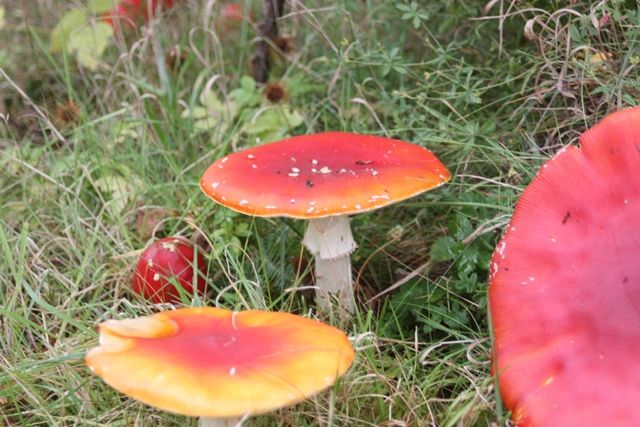 A nice relaxing way to finish off the season.